Do You like My Dog?
Some of the best stories can pass you by when you are busy.  Here in the Music City, you may bump elbows with Carrie Underwood, or almost run over Keith Urban and Nicole Kidman while driving for Uber.  I actually almost ran them over in front of Starbucks in West Nashville, but that has nothing to do with this epic tale that is based on true events.
This is the story of an unknown man that I will name Rodney.  Why Rodney you ask?  Because let's face it, everyone knows a Rodney and not a single one of them are normal.  And so it begins…
The other day my buddy Tom was elbows deep into a dollar menu smash at McDonald's while attempting to finish up some office work.  For those of you that are not aware, the McDonald's off of Music Valley Drive near the Opryland Hotel actually has several museum-like displays with memorabilia from the legends of Nashville.  You can also catch some live music most days during the lunch hour, which aids in digestion because its science.
Anyhow, Tom had been asking me a few work-related questions via text when he sends me the message that started it all.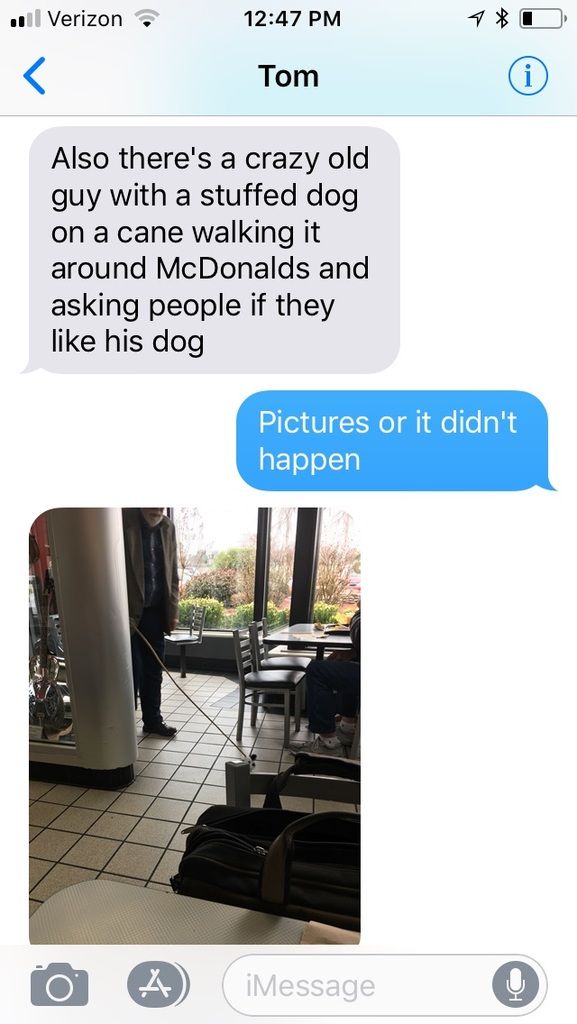 There's a crazy old guy with a stuffed dog on a cane walking around McDonald's.
Not only that, he is walking up to everyone asking them if they like his dog.  Here at SoBros, we promise to provide hard-hitting investigative journalism.  Thus, I needed pictures or it didn't happen.
This is when Rodney shows up on my phone, in all of his glory, and he legit has a stuffed animal dog on the end of a cane.  "Do you like my dog?" he asked. I didn't even ask my buddy Tom how he answered the question because my mind wandered in a million different directions at once.
Who is Rodney?  Why is he walking around a stuffed animal dog on a cane?  Is Rodney single, and this is how he picks up hot chicks?  Is he a little bit looney, or is he a genius?  Is he the real-life Patch Adams of McDonald's?  I also thought to myself, if I was the manager of that location what could I even say to him?  "Rodney, you are scaring the children with your weird cane dog thing."  "Rodney, this is somehow against health codes and your cane dog will need to leave the establishment at once."  I would have known that his name was Rodney if I were the manager, which is why I used the name in my hypothetical examples.
48 hours removed from the discussion, I sit here still amazed by Rodney's stunt.  Is it weird?  Absolutely, but let's face the facts.  We are all a weird in our own way.
Deep down, we all yearn for acceptance and this could be the way that Rodney seeks that out in the world.  If you run into Rodney, give him a smile, a high-five, and tell him that his dog is the coolest thing you have ever seen.
Maybe you could even catch his dog's name so that I can edit this article.
Heck, maybe you could even find out what Rodney's real name is for me.  I implore you to not be so busy that you miss your opportunity to have a conversation with the Rodney's of the world.  Smile and say hi to a stranger, because that's what we do in the South.
Kindness and laughter can heal the soul, and because of that I will close with the words of Rodney – The Man, The Myth, The Legend: Do you like my dog?
Buy our shirt. Like us on Facebook. Follow us on Twitter @SoBrosNetwork. Listen on SoundCloud. Watch on YouTube. Shop our store on Redbubble.